Theses
Theses
The Chair of Digital Industrial Service Systems supervises bachelor and master theses. You can apply for advertised topics or send an own topic suggestion. Theses in collaboration with external partners are also possible.
Please apply online:
You may prepare your thesis in the following areas:
IT-supported services, particularly in the context of industrial applications
Business process management and process analytics
Information modeling
Methods of design-oriented business informatics research
Reproducibility of research processes and results
A current list of advertised topics can be found here.
Procedure
The following procedure applies for all students who want to write a thesis at our chair: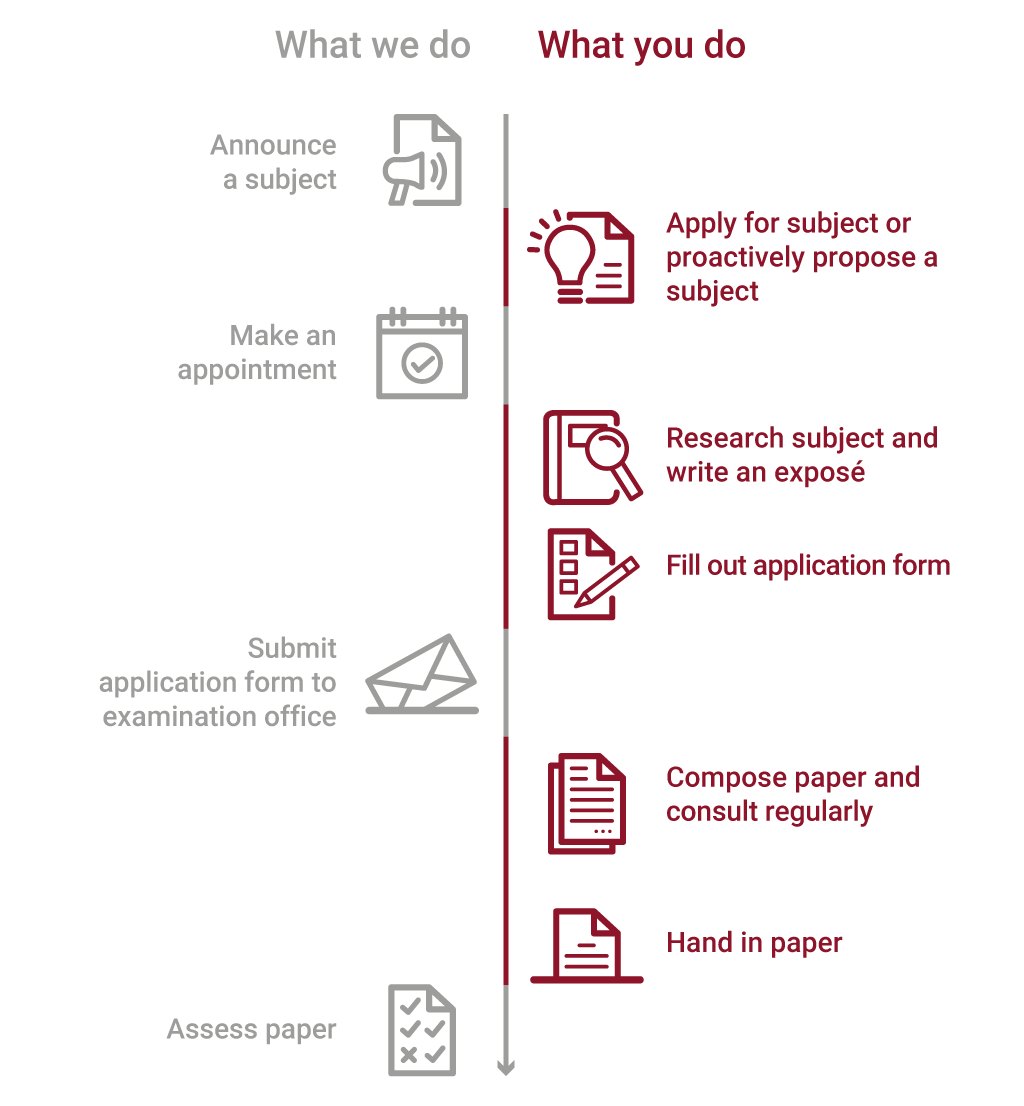 Apply for a subject or proactively propose a subject
First, you apply for an advertised topic or suggest an own scientific research question from the above-mentioned areas of research. When contacting us, please explain your interest in the topic and tell us about your specific previous knowledge. Therefore, please write a short paragraph which shows your motivation and qualification and send your CV.
  Research subject and write an exposé
Second, you familiarize yourself with the topic and write a 3-4 page long exposé (plus cover page and bibliography) with the following content:
a)  Relevance of the problem statement and research question
b)  Method or approach in order to solve the research question
c)  Targeted objective of the thesis
d)  Preliminary structure
e)  Rough time schedule with predefined milestones (Gantt-Chart)
 Fill out the application form
Third, you conduct the registration of the thesis with the final title at the examination office. Therefore, please fill in the registration form and send it to us.
 Compose the paper and consult regularly
Fourth, you develop a solution for the research question and write the thesis. Please maintain regular contact with your supervisor in order to report on progress and solve potential problems.
Hand in paper
Fifth, you submit the thesis. Furthermore, you will give a final presentation on your findings. The submission is to be made in duplicate and additionally in digital form (e.g. CD; USB,…). Please discuss further details with your supervisor.
For the printout, the following layout is to use: cardboard in the color of Wiso or FAU (blue/red) for the rear side, transparent sheet for the cover sheet and a black adhesive
binding inbetween.
Students of the Faculty of Business, Economics and Law please submit their thesis to the examination office, students of the technical faculty (as Winf or IP) please submit their
thesis directly at their chair.