Don't miss out the last TOBI Talk of the winter semester which will be on January 20th at 15:30 with yet another exciting topic: The Attraction Effect in Reward-Based Crowdfunding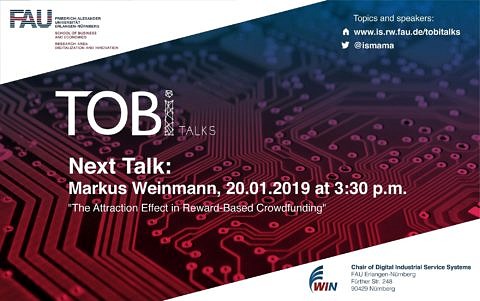 Don't miss out the last TOBI Talk of the winter semester which will be on January 20th at 15:30 with yet another exciting topic: The Attraction Effect in Reward-Based Crowdfunding
Have you ever wondered how people judge, decide and behave in online environments for example in crowdfunding platforms and its effects on the platforms?
In the last session of TOBI Talks of the Winter Semester, we will get the chance to learn more about the effect of the design of rewards in crowdfunding platforms on backers' decisions.
The different aspects that affect crowdfunding success have already explored however, the design of rewards has not been studied genuinely. Dr. Weinmann will present the research that he and his colleagues conducted in which the attraction effect in reward-based crowdfunding was tested in a series of experiments. Their study shows that backers' decisions are fairly affected by even modest changes to reward menus. Hence, they deduce that the design of crowdfunding platforms has the potential to increase the success probability of crowdfunding projects.
Dr. Weinmann will also address the research and practical implications of the study for the design of crowdfunding platforms. The talk will be on 20th January at 15:30.
We would like to invite you to the final session of TOBI Talks to discover together and exchange ideas in our interactive discussions.
Location: Fürther Straße 248 (Entrance Electrolux, not TÜV!), 90429 Nürnberg, 1st Floor on the right in the lobby. See this site for details.