TOBI Talks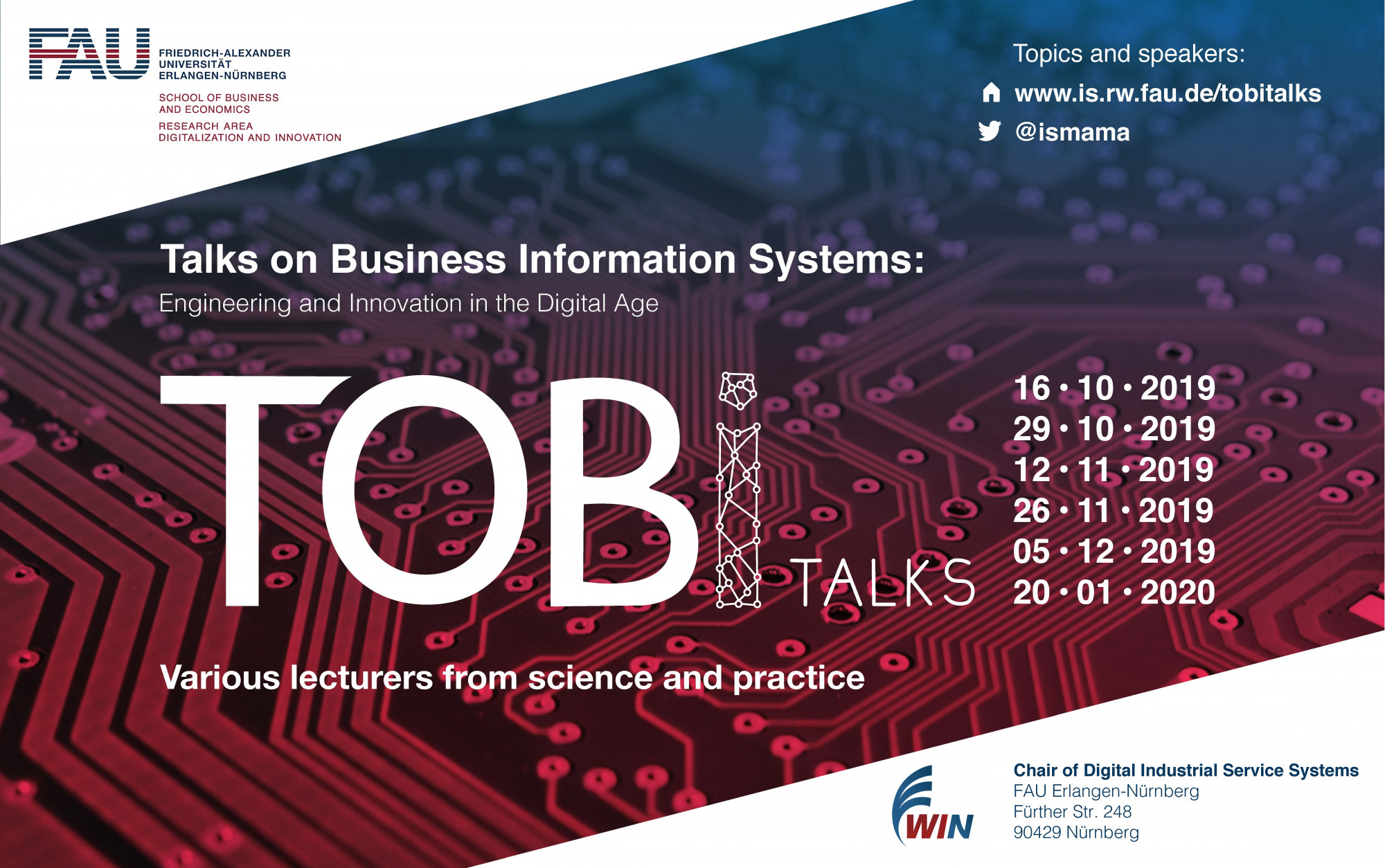 The Chair of Digital Industrial Service Systems is starting a new series of talks on Business Information Systems. Acknowledged lecturers from science and practice will share inspiring insights in six different sessions. We invite you to "TOBI Talks" not only to gain valuable insights about trending topics in digitalization and innovation but also to exchange ideas in an international atmosphere.
Where: Fürther Straße 248 (Entrance Electrolux, not TÜV!), 90429 Nürnberg, 1st Floor on the right in the lobby. See this site for Details.
Jeffrey Parsons
Date of Talk: 16.10.2019 at 12 a.m.
Location: Fürther Straße 248 (Entrance Electrolux, not TÜV!), 90429 Nürnberg, 1st Floor on the right in the lobby. See this site for details.
University: Memorial University of Newfoundland, Canada
Research Interests: Classification in Systems Analysis and Design, Crowdsourcing, Information Quality, Data Management, Design Science, Recommender Systems, Object-Oriented Systems and Reuse, E-Commerce
CV: Dr. Jeffrey Parsons is University Research Professor in Memorial University of Newfoundland where he served as Associate Dean of Research for 8 years in total. He worked as Visiting Professor in University of Queensland of Technology, Australia and Visiting Assistant Professor in The Wharton School, The University of Pennsylvania. Dr. Parsons has been in editorial boards of academic journals including Information Systems Research and Journal of the Association for Information Systems. He holds research grants from NSERC and SSHRC and has served on grant committees for both funding councils.
Abstract: Online consumer reviews have become an important source of information for understanding markets and customer preferences. When making purchase decisions, customers increasingly rely on user-generated online reviews, which in some cases are more credible and trustworthy than information provided by vendors. Many studies have revealed that online reviews influence demand and sales. Others have shown the possibility of identifying customer interest in product attributes. However, little work has been done to address customer and review diversity in the process of examining reviews. This research intends to answer the research question: how can we solve the problem of customer and review diversity in the context of online reviews to recommend useful reviews based on customer preferences to improve product recommendation? Our approach to the question is through personalization. Similar to other personalization research, we use an attribute-based model to represent products and customer preferences. Unlike existing personalization research that uses a set of pre-defined product attributes, we explore the possibility of a data-driven approach for identifying a more comprehensive set of product attributes from online reviews to model products and customer preferences. Specifically, we introduce a new topic model for product attribute identification and sentiment analysis. By differentiating word co-occurrences at the sentence level from co-occurrences at the document level, the model better identifies interpretable topics. The use of an inference network with shared structure enables the model to predict product attribute ratings accurately. Based on this topic model, we develop attribute-based representations of products, reviews and customer preferences and use them to construct the personalization of online reviews. We hypothesize the effects of personalization from the lens of consumer search theory and human information processing theory and test these hypotheses in an experimental setting. The empirical evidence shows that the personalization of online reviews can: 1) recommend products matching customer's preferences; 2) improve custom's intention towards recommended products; 3) best distinguish recommended products from products that do not match customer's preferences; and 4) reduce decision effort.
Johannes Tenschert
Date of Talk: 29.10.2019 at 12 a.m.
Location: Fürther Straße 248 (Entrance Electrolux, not TÜV!), 90429 Nürnberg, 1st Floor on the right in the lobby. See this site for details.
University: Friedrich-Alexander-Universität Erlangen-Nürnberg
Research Interests: Adaptive Case Management, Business Process Management, Data Management, Complex Event Processing
CV: Johannes Tenschert is soon defending his PhD thesis in Computer Science at the Chair of Computer Science 6 (Data Management) and starting as a postdoc at the Chair of Digital Industrial Service Systems. He co-founded the startup Pertuniti based on the results of his thesis on how to support processes without a process model and how to combine (semi-)structured and ad-hoc work in knowledge-intensive processes. He has practical experience in implementing and certification of agile processes in the context of highly regulated medical quality management.
Abstract: Today's organizations are socio-technical systems in which human workers increasingly perform knowledge work. Knowledge workers already face a broad range of tools to support their work, e.g. adaptive case management systems, tailored information systems, groupware, collaboration tools, and other (process) support systems. Ultimately, processes and their artifacts are scattered across many systems and data sources. The overlapping structured, semi-structured, and ad-hoc work across systems that comprises the overall process entails redundant work, potentially discrepancies, and a lot of effort to gain an actual system of record by manually and automatically keeping process data consistent. A lot size of one often results in "Excel tools" and a set of templates, but actual automation of routine aspects in knowledge-intensive processes is scarce.This talk outlines how we tackled this problem with a speech-act-based approach at the Chair of Computer Science 6, how we evolved it at Pertuniti by implementing process management for knowledge-intensive processes as project and knowledge management with a focus on collaboration and communication, and how we currently further advance it with aspect-oriented process modeling. While the overall process may remain completely ad-hoc, modeled routine aspects can be applied as subprocess instances that share the same context. Routine aspects like travel expense handling, checklists in event management, strict documentation requirements, or simply filling artifacts with data the systems involved already have, can be shared in a wide range of processes. Automation, guiding of routine work, and completely ad-hoc activities are performed within the same context. This way, organizations can gradually extend their automation, facilitate an actual system of record, and remain flexible where they need to.
Thomas Hildebrandt
Date of Talk: 12.11.2019 
Location: Fürther Straße 248 (Entrance Electrolux, not TÜV!), 90429 Nürnberg, 1st Floor on the right in the lobby. See this site for details.
University: IT University of Copenhagen
Research Interests: Formal process models and semantics for concurrent, distributed and mobile systems, and their strategic applications to the development of new process languages and technologies for trustworthy, process- and service-oriented information systems, involving both computers, humans and their surrounding context.
CV: Thomas Hildebrandt is  Professor of Software Engineering in Computer Science Department and Head of the Software, Data, People & Society (SDPS) Section at the University of Copenhagen. He also serves as independent consultant and facilitator for digitalization and process-orientation in various initiatives such as VidenDanmark.dk, Copenhagen FinTech Innovation and Research Network and InfinIT Innovation Network (www.infinit.dk).
Abstract: So far, most digitalization of knowledge work is about recording and retrieving information. Most processes are coordinated by email or paper, and only small trivial tasks are supported by process automation. The inter-disciplinary EcoKnow.org Grand Solutions research project funded by Innovation Fund Denmark aims to changes this situation and deliver new technologies for effective, co-created and compliant adaptive case management systems for knowledge workers.In the talk we will present the key enabling technology for the EcoKnow project – the declarative Dynamic Condition Response graphs process language, developed through 10 years of research and now commercially supported by a software stack including a design and simulation tool, a process engine, analysis and declarative process mining – all available for free trial at dcrsolutions.net. The latest innovations are tools for mapping processes from natural text supported by NLP – and a declarative process mining tool making it possible to suggest process rules from looking at past scenarios.
Half-way through the project, the technology is widely available embedded in the workflow management systems used in Danish governmental institutions and we are gathering feedback from how it is used in practice. In addition to the theoretical background, we give a demo of the tool and pointers to future research and developments.
Erwin Fielt
Date of Talk: 26.11.2019
Location: Fürther Straße 248 (Entrance Electrolux, not TÜV!), 90429 Nürnberg, 1st Floor on the right in the lobby. See this site for details.
University: Queensland University of Technology, Brisbane, Australia
Research Interests: Business Model Innovation and Design, Service Innovation and Engineering, and Strategy and Management
CV: Erwin Fielt is a Senior Lecturer at the Service Science discipline in the School of Information Systems at QUT. He has experience in the IT industry as researcher, consultant and practitioner and has a PhD from the Delft University of Technology and a MSc degree from the University of Twente. He holds best paper awards at the International Conference on Research and Innovation in Information Systems (ICRIIS 2011) and at the Workshop on e-Business 2006 as well as best poster award at the 9th Annual International Conference on Digital Government Research (dg.o 2008).
Abstract: With the ongoing prominence of digital innovation and transformation, the opportunities and challenges of new business models are a prominent topic. I will first briefly introduce business models and digital innovation. Then I will address two specific types of business models gaining traction in the digital age: Data-driven business models and platform-ecosystem business models. Next I take the perspective of an incumbent, establish organization and ask how they can deal with new digital entrants with disruptive business models. This requires, amongst others, being able to manage a portfolio of business models with a mix of traditional and new business models. Throughout this talk I will provide examples of my research in these areas.
Date of Talk: 5.12.2019 at 11:00 a.m.
Location: Fürther Straße 248 (Entrance Electrolux, not TÜV!), 90429 Nürnberg, 1st Floor on the right in the lobby. See this site for details.
University: University of San Francisco 
CV: Steven Alter is Professor Emeritus at the University of San Francisco. After receiving a PhD at MIT and teaching at the University of Southern California, he served as vice president of a manufacturing software start-up that was acquired by Applied Materials. Upon returning to academia he wrote four editions of a major IS textbook. That effort led to research focused on developing systems analysis and design methods that business professionals could use for their own understanding and to help them collaborate more effectively with IT professionals, consultants, and vendors. The result was various versions of the "work system method (WSM)," which focuses on the business problem of creating or improving a sociotechnical work system, rather than the more limited technical challenge of creating or improving software that satisfies requirements. Most of his articles in journals and conference proceedings are related to WSM, work system theory (WST), service systems, and extensions of WST such as work system design principles, a theory of workarounds, a service value chain framework, and a new theory of IS user satisfaction.
Abstract: The idea of facets of work grew out of an earlier attempt to bring more knowledge and richer, more evocative ideas to systems analysis and design (SA&D), business process management (BPM) and enterprise modelling (EM), thereby expanding their scope and improving designer interactions with business stakeholders. Focusing on facets of work (such as making decisions, communicating, controlling execution, co-creating value, etc.) potentially provides useful guidance without requiring details, precision, and notation that are unnecessary until later in a project. The idea of facets of work also applies to brainstorming about digital transformations and digital innovation, both of which necessarily involve significant changes related to facets of work . The current version of this idea identifies 18 facets, each of which 1) is important in many practical situations, 2) applies to both sociotechnical and totally automated systems,3) highlights many concepts that are largely ignored in typical SA&D methods, 4) is associated with a set of success criteria and design trade-offs, 5) is associated with a series of sub-facets that often are useful, and 6) implies open-ended questions that can be useful in starting a conversation about an important aspect of an IT-reliant system.
 Markus Weinmann
Date of Talk: 20.01.2020 at 03:30 p.m.
University: Erasmus University Rotterdam
Research Interests: Behavioral Economics, Digital Economy, Online Behavior, Online Analytics, Digital Platforms, Online Judgment, Crowdfunding, Crowdsourcing, Online Ratings, E-Commerce, Web-Experiments
CV: Markus Weinmann is an Assistant Professor at Rotterdam School of Management. His research concerns "Online Behavior and Analytics," in particular, how people judge, decide, and behave in online environments. Areas of application include crowdfunding (e.g., Kickstarter), crowdsourcing (e.g., Transfermarkt), and online ratings (e.g., TripAdvisor). His research has been published in leading journals (e.g., MIS Quarterly), won prestigious awards (e.g., European Research Paper of the Year), and has been featured by premier media outlets (e.g., The Wall Street Journal).
Abstract: Researchers have identified various factors that influence crowdfunding success but have not studied the design of rewards in sufficient depth. This paper presents the results of a series of experiments that test the attraction effect in reward-based crowdfunding. We find that even small changes to reward menus—by manipulating the choice set—can significantly influence backers' decisions by directing them to more attractive rewards. The design of crowdfunding platforms, therefore, makes it possible to increase the success probability of crowdfunding projects. The results have implications for the design of crowdfunding platforms.
More information about the rest of the lecturers will be provided in due course.