Secondments to Australia and South Korea via RISE_BPM
Secondments to Australia and South Korea via RISE_BPM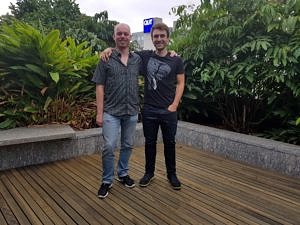 Emanuel Marx and Matthias Stierle from the Chair of Digital Industrial Service Systems seized the opportunity to visit some of our research partners as part of the RISE_BPM-Project ("Propelling Business Process Management by Research and Innovation Staff Exchange"), funded by the European Union's Horizon 2020 programme. The project aims to build networks between world-leading research institutions and corporate innovators in order to foster new perspectives for Business Process Management.
Within the scope of their RISE_BPM secondments, Emanuel Marx has been conducting research at the Queensland University of Technology (QUT), Brisbane, Australia together with Erwin Fielt to examine the relationship between Servitization and Big Data Analytics.
Matthias Stierle visited the team of Minseok Song at Pohang University of Science and Technology (POSTECH) in South Korea. The focus of his stay was to work on how to use Process Mining to identify potentials for Robotic Process Automation.
We look forward to listening to the first-hand experiences of our researchers who will soon be on their way back home from their secondments in this unique international project for BPM research and innovation.