Hilti IT Competition 2020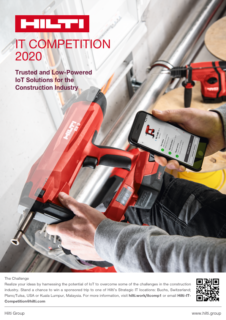 Hilti IT Competition 2020
Hilti organizes annual IT competition, which provides the opportunity for undergraduate and graduate students to get acquainted with the construction industry. This year the competition's theme is: "Trusted and Low-Powered IoT Solutions for the Construction Industry".
By generating innovative ideas for the challenges faced by the construction industry, the successful participants will not only have the chance to win sponsored trip to one of Hilti's IT Strategic Locations but also to start their career at Hilti with an internship.
The following topics can be targeted in seeking solutions or concepts for the competition:
1. Security and data authenticity in IoT solutions
2. Connectivity between IoT devices
3. Compatibility and longevity of IoT solutions
4. Information privacy in IoT solutions
Registration closes on 29th November 2019. Further information can be found here.