TOBI Talks Start Tomorrow!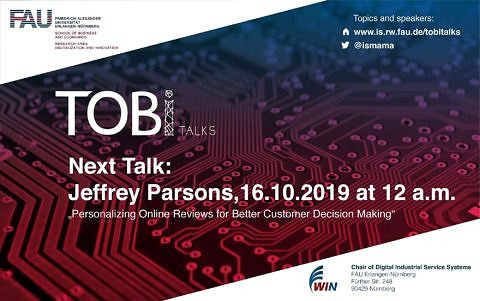 It's about time! Under the theme of Engineering and Innovation in the Digital Age, TOBI Talks start tomorrow at 12:00 with Jeffrey Parsons' speech: "Personalizing Online Reviews for Better Customer Decision Making".
His talk will address customer and review diversity in the process of examining reviews. Dr. Parsons will introduce the research that he and his colleagues have conducted with the aim of providing useful reviews based on customer preferences in product recommendation. Using attribute-based model, the study explores the possibility of a data-driven approach for identifying a more comprehensive set of product attributes from online reviews to model products and customer preferences. In his speech, Dr. Parsons will present their new "topic model" which can be used to construct the personalization of online reviews and the potential benefits of it.
Join us tomorrow to discover how data-driven approach can improve product recommendation process.
Other enlightening sessions will follow in the next weeks, stay tuned!